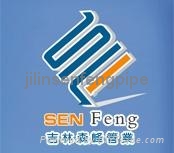 JILIN SENFENG PIPE CO., LTD. is established as a manufacturer of ductile iron (D.I.) pipes & fittings plus carbon steel pipes. Dominant products (D.I. series) have won widespread acceptance in the global market.

JILIN SENFENG PIPE CO., LTD. is certificated by SGS through the ISO 9001:2008 Quality Management System to demonstrate its commitment to service quality and customer satisfaction, as well as continuously improving its quality management systems and integrating the realities of a changing world.

"SENFENG PIPE fitting the world."