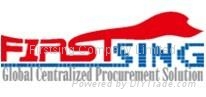 FirstSing Co., Ltd, was established in 2000,uphold the middle way and live to death.

After all the hardships, bringing happiness to more than 15,000 distributors worldwide is our greatest happiness.

https://www.firstsing.com/en/manufacturer/all.html Centralized Procurement, a stitch in time saves nine. Consumers will receive satisfactory products; one of the leading consumer electronics suppliers in China.FirstSing is your centralized procurement center,offer consumers around the world the safe and secure localization procurement service. Our main export market is Europe,America,Asia,etc.,we're very experienced in OEM orders.Also ODM orders are welcomed. Our goal is offer quality product at competitive price for our customers and Win-Win finally.

The biggest global agents OEM ODM orders, One of the earliest traders in Shenzhen.