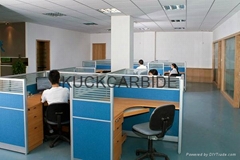 Zhuzhou Kuck Carbide Co., Ltd. is a technological enterprise located in Zhuzhou city, Hunan Province, which is one of leading carbide manufacturers of China.

Since established in 2008 by a top carbide scientist of China and his colleagues, Kuck Carbide has served the industry by supplying high quality tungsten carbide products based on its leading technologies. In recent years, the company has developed a number of new technologies and products for Tungsten alloy. Therefore, some of these technical inventions have been widely known in the industry as Kuck Carbide received more and more technical achievement awards.

The main products fabricated in Kuck Carbide include carbide powder, carbide balls, carbide plates, carbide bars, carbide buttons, wear parts and metal cutting tools, which invo ed in mould manufacturing, oil, mining, metal cutting and other industries. The products are exported to Europe, America and Australia etc.

Not only to be a reliable supply source for standard carbide parts, Kuck Carbide can also produce specialized parts from engineering drawings and recommend the proper grade of carbide for a particular application. By meeting its clients' ever-changing needs, Kuck Carbide has earned its reputation as a manufacturer for custom carbide products.

Quality control is always the first priority in Kuck Carbide. ISO9001-2000 international quality system was uesed as standard. From the powders to the finished parts, Kuck Carbide consistently monitors all stages of the production process that assures every product do meet the customers' specification. Each product goes through a thorough inspection and quality check before delivery.

The aim of the Kuck Carbide is to supply products and finished machined components with competitive prices, with the emphasis on delivery and service. With our sincerity, make our out standing. If you're interested in our product, please don't hesitate to contact us.