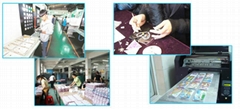 At LeMoTong, we make it really easy to bring your ideas to life with our customization service. Although we offer an extensive range of products to suit most needs, we're happy to work with you to develop a case or accessory for you or your customers.

We offer hands-on design and production service to help you create your perfect case by TPU, PC, Silicone, PU and genuine leather material with IMD/IML, embroidery, rubber dropping, colorful drawing, plating craft, and much more.

  In essence, if you can imagine it, then we can make it. We have an experienced design and marketing team , over 10 years industry experiences, who can help and advise you from concept to final production.