Product Description
Basic Version(stepping motor).
1. Iron cast foundry body with high-precision datum plane.
2. Best-ever quality import high-precision ball screw and square rails for all 3 axis, excellent stiffness with no moving gaps.
3. Support standard G-code, compatible with a broad range of CAM software.
4. Process the material such as steel, brass aluminum and all the other non-metal materials.
5. Automatic self-cooling brushless spindle (Frequency convertible) with high precision and long life.
6. Handheld keypad interface controller and auto knife sensor.
7. Wide range of applications such as steel seal, brass stamp, molds, jewelry, rapid prototying etc.
Advance Version(Servo motor)
1. Comes with extra AC Servo motor driving system which ensures much higher precision.
2. Complete Closed Loop control system which eases the worries of losing steps.
3. Dramatically high processing speed and working efficiency, equivalent to two machines.
4. Suitable for processing small molds, tools and high-precision spare parts/accessories processing.
Model
Y3
Y4
Y4S
X.Y axis motion
300x 250
400x 300
Z axis motion
55mm
120mm
Table size(X/Y)
330x 280
480x 380
Drive System
The ball screw for 3 axis
High-precision ball screw and square rails for all 3 axis
Max.Engraving speed
7.0
7.8
12
Max.Engraving speed
6
8
Max.Feeding Height
75
155mm
Repeatability
0.05mm
0.02mm
Driving system
step motor
AC Servo Motor
Resolution
0.003125mm
Controller
VDS I (DSP / 100MHz / USB port)
Memory
32MB
File Type
HP-GL, G-Code
Computer OS
Windows98/2000/XP
Power Supply
AC220V / AC110V
Spindle

(

air cooling

)

400W/10000-40000
1200W/0-24000
Packing size
690*690*700
1080*800*700
1100*850*750
Gross weight(KG)
84
125
150
Operating Environment
Temperature:+5℃~+40℃;Humidity:30%-75%;Atmosphere pressure:86~106 Kpa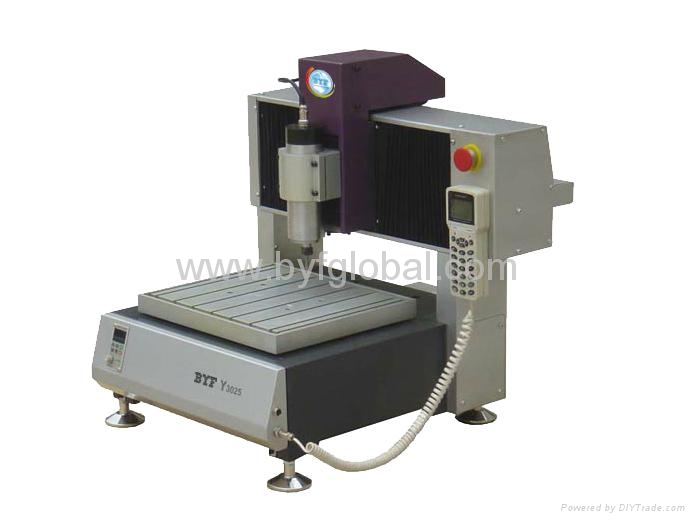 Member Information
BYF Technology Co.,ltd
Country/Region:
Guang Dong - China
Business Nature:
Manufacturer
Phone:
18688930182
Contact:
Rose Huang (general manager)
Last Online:
18 Jun, 2012
Related Products of this Company