Product Description
Detailed Product Description
Fabric Softener :
1) Strong clean power
2) Soft and skin protection
3) Antibacterial and remove stains completely
Fabric Softener
DIRECTIONS
Pour 1/4 to 1/2 capful into conditioner compartment at beginning of washing cycle.
Alternatively pour1/4ti 1/2a capful into conditioner compartment at the final rinal rinse cycle.
Do not pour undiluted fabric softener directly onto clothes
Do not use on flame resistant garments as it may result in reduced flame resistance.
STORAGE
Store in an upright posright position.Keep away from direct sunlight.
FIRST AID
CAUTION:KEEP OUT OF REACH OF CHILDREN
Do not swallow.If swallowed,seek medical advice immediately.Keep away form eyes.In case of contact with eyes,rise immediately with plenty of water.If irritation persists,seek medical advice.
Features:
1) Strong clean power
2) Anti bacteria
3) Quickly permeates the fabric and cleans every strand
4) High concentration formula
5) Easy to rinse
6) Not leave any detergent residue
7) Soft and skin protection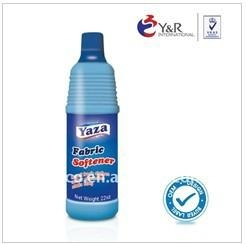 Related Products of this Company