Product Description
Grassland Fence Automatic Weaving Machine
This machine is a new model equipment designed by this company. Can automatically weave the weft wire and warp wire together. The grassland fence produced has the features of innovative structure, firmness, precision and reliable property. The productive capacity can be 150m/h.

We can make according to the custom's special requirement.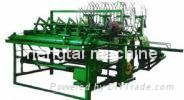 Related Products of this Company