Characteristics:
No detergents need, cleaning with water only ;
Magically, powerfully and fast to wipe off stubborn stains and old dirt;
Contains no chemicals !
Save Time, Save Labor and Save Money;
Convenient, Eco-friendly and Healthy.
The difference of our Car Washing Sponge(12kgs/m3 to 16±kgs/m3)
compared to Mr Clean Magic Eraser Or Basf's :
1, Higher Density
The ordinary sponge is 7-8kgs/m3 only.
Our compressed Car Washing Sponge is twice density 16±1kgs/m3, and with much stronger cleaning ability.
2, More Flexibility
The ordinary sponge are suffering from loose texture, poor handling, easy to out of shape, easy to fracture
and collaps slag.
our compressed magic cleaning sponge is feeling smooth and soft to the touch, you can squeeze the water
by any way you like.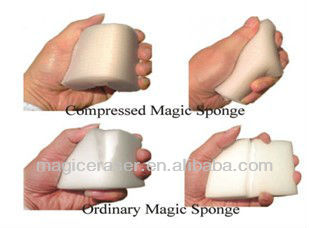 3, More Durable
The Ordinary melamine sponge is fast wearing and tearing, almost one-time use.
One piece of our Car Polish Sponge could clean all the dirt on a two -living room house.
4, More Powerful Cleaning Ability
Stronger and Faster Cleaning Ability, higher efficiency.
5, Better Feeling by Hand
Fine texture, better touching.
In one word, Our Car Wash Sponge is higher quality compared to Mr Clean's or BASF's.
Key: Best Selling Products

Our Products
have passed the SGS safe & healthy test.
Our Patented Products
Magic Teeth Cleaner, Patented Number: 201020205049.8
Our Advantage = S + S + S + A
Stable Quality
Sufficient Supply Capacity
Strong technical support for production.
Application Diversification
Key Projects
1.Supply Magic Disk Foam With Scouring Pad for the ongoing project - the maintenance of 160
floors in Burj Khalifa Dubai (World's Tallest Tower), U.A.E.
2.Supply Compressed Magic Eraser for the famous Japanese brand – Daiso.
Provide Service
1,Finished Products
2,Semi-Finished Product
3,Application Solution
4,OEM Service
5,ODM Service
Our mission
Professional and only devote to researching and developing of new application of compressed
melamine Best Car Wash Sponge