Product Description
Made with organic Marula Nut oil and pure lavender oil for a delicate fragrance.
Natural vegetable ingredients including: shea butter, olive oil, coconut oil and palm oil. Unlike commercially made soaps, Kgetsi Ya Tsie Soap is not made from tallow (beef fat), but uses the finest natural vegetable ingredients without the addition of unnecessary chemicals. The cold-process leaves intact the glycerin (which is removed in the commercial process and sold on to cosmetic, food, or explosives industries). Glycerin is a natural moisturiser, giving the soap a uniquely gentle quality to touch and have the same effect on the skin; giving a wonderful rich lather.
No animal products are used in the soaps production and it is not tested on animals.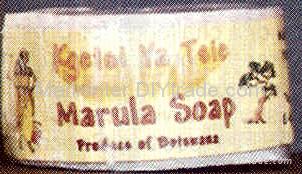 Member Information
Kapmar Beauty Tech
Country/Region:
Botswana
Business Nature:
Trading Company
Phone:
+267 71874768
Contact:
Martin Kapfumvuti (Director)
Last Online:
27 Sep, 2014