Product Description
Fast, simple and accurate of way to determine the defects in the ignition coils.
Automatic distinguish different ignition coil type by auto switching control modes.
Adjustable Frequency control ranging from 120Hz ~ 12 KHz.
Safety and foolproof.
Applicable on coil-on-plug (COP), coil-near- plug (CNP), double ended coil-on-plug (DECOP) or wasted plug systems.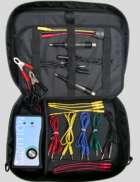 Related Products of this Company