Product Description

Jiangsu honger non-ferrous alloy co.,ltd .is a privately owned enterprise,which is assigned as a key manufacturer by the Chinese Nonferrous Metal Industrial Company General to produce diverse copper-base alloy and also a key enterprise of the jiangsu Province Star-fire Technology concentrated zone.The company grew out of the former Jingjiang Nonferrous Metal Material Factory as a result of capital reconstruction and system refrom.

Having developed for over 40 years,our company now occupys 18000m2 land and has more than 300 staff and workers 48 of whom are specialists in different fields. The company possesses 16 millon-odd RMB of fixed capital including advanced manufacturing facilities and complete test devices.In 2010 it own the name of five-star enterprise in administration and got certificate of ISO9001 quality guarantee system.

Main Produce:

1.Plates and Strips of Copper and Copper-base Alloys;

2.copper bar

3.Precise Casting Products

4.Varied Special-shaped Copper Bars

The company is located on the banks of the Yangtze River in jiangsu Province Jingjiang City.jingjiang city is northern bridgehead of the jiangyin bridge having developed traffic and excellent geographical environment.Observing the quality principle of "standardizing administraration,meticulous manufacturing and satisfying customers are honger pursuit",we cordially welcome old and new customers home and abroad to come to us to make arrangement on business and technical cooperation.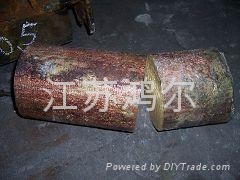 Related Products of this Company