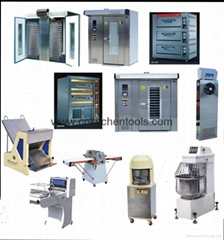 HEBEI ANGSEN IMPORT AND EXPORT TRADING CO.,LTD is a leading manufacturer of hardware,bakery machines,Kitchen tools,etc. in China.Service and quality come first in our company.We keep the 100 percent conformtable adminisration system.

Our main products scope are: 1. Rotary rack Ovens, Deck Ovens, Dough Mixers,Dough sheeters,Dough Divider and Rounder,Dough Dividers, Planetary Mixers, Proofer Controller,Toast Moulder, bread slicer, racks,baking pans,Toast box,etc.

2. Meat Mincers, Grinders, Meat Mincer Heads, Meat Mincer parts, Stainless Steel Meat Tenderizer, Stainless Steel Meat Mixer, Sausage Stuffers, Muller, Corn Grinders, Nut grinder, Universal Grinder, Wheatgrass Juicer, Tomato Juicer, Can opener, Pasta Machine,Ice Shaving machines, Orange peeler, Can sealers, Meat beaters, etc.

3. stainless steel wire mesh strainers,colanders,tea strainer, sink strainer,mesh basket,sprayed mesh basket,food cover,flexible basket,stainless steel dish racks,stainless steel oil sieve,frying basket,wire mesh basin,frying strainer,wire skimmers,vermicelli strainer,splatter screen,spice balls,flour sifer,wire grilling tray,roasting grill pan,wire square grill basket,wire square popcorn basket,fish grill basket,sprung vegetable basket,food clips,cupcake stands,,BBQ,wire mesh,etc..

4. Agriculture tools and garden tools.

At the same,we can design and produce the products according to customers special demand.