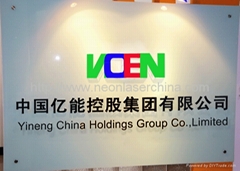 Yineng China Holdings GroupCo.,Ltd. is founded in 2006 and located in XiangXiang City,Hunan Province and Dongguan City,GuangDong Province-manufacturing center.

Yineng is specialized in designing, developing and manufacturing the LED torch series,Tactical flashlight Series, Mounts,Laser Sight Series,DPSS Laser Series.

Depending on its outstanding technology, innovation spirit, superior equipments, and high demand for quality, Yineng successively produces superior aluminum alloy LED torches for different usage and conditions.

Among products, tactical flashlight torch strengthens design to meet customers' needs and in the open severe environment.

It is suitable for family, in the dark for exploration, military training, police patrol and frontier seek, etc.

Our products are widely exported to Europe, America, Middle-east,and other countries and areas.

There are many professional torch designing engineers, many senior experienced torch manufacturing staffs, and many professional CNC digital control engineers in our company.

We have more than 8 pieces CNC digital control lathes, CNC processing center, four axle-bearing machines, and shining metal lathes for production. Also, possess assembly lines, assembly workshop and inspection equipments can use for assembling and produce LED flashlight series.

Our main products: CREE Flashlight, LED Flashlight,Tactical Flashlight,Laser Sight,Mount. Also we can design as per your request.

Based on the advanced technology and strict management, with strong desire to meet customers' requirements to offer high-qualified products, we have determined to provide good products with reasonable price and protect the environment, leading a scientific sustainable development road.

Here we strongly recommend our products and share the advantage with the high technology.

Let's create the best products to contribute to the society together!