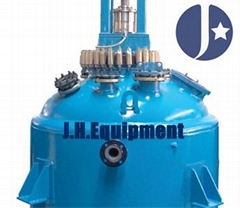 J.H. Equipment is one of the most professional manufacture and supplier of reaction,storage,separation and heat-exchange equipment used for chemical, food and phamaceutical industries in china.We hold the authorized design and production certificate of pressure vessel Type I,II and III from chinese authority and we can design and manufacture chemical and pharmaceutical equipment according to your specific requirement.

Now J.H.Equipment is building its reputation out of china and our products are exported wordwidely. Our products cover: 1)glass lined reactor and storage tank,ss reactor and storage tank 2)glass lined condenser,glass lined column, glass lined pipes and fittings.

3)Fermentation tank, crystallization tank, distillation tank,thick and thin preparation tank 4)Thin film evaporator 5)Centrifuge for chemical and pharmaceutical industry We always consider quality and customer's satisfication to be number one. We always keep innovation for new products to meet requirement of our customers. We would like to hear from you if you are in this business field.