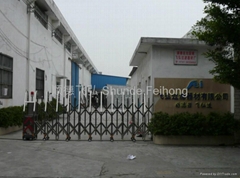 Beijiao Feihong Filter Equipment Factory Introduction Beijiao Feihong filter equipment factory which located in Shunde District Foshan City is the core supplier of Midea Environment Appliances Co. Ltd.. Feihong is a industrial manufacturer specialize in liquid filtration system and appliance filter. Collected research and development, manufacture and sale as a whole, to provide professional filtration products and services for global customers of different industries.

Feihong filter insist the customer service concept, always committed to the filter continuous development, and constantly open up, innovation and enterprising to make leading of filter industry. Feihong is a good cooperate partner and friend to you.

Main product: filter bag, liquid filter bag, filter cartridge, oil removal/absorption filter bag, stainless steel filter, liquid filter, strainer, filter cotton, air filter.