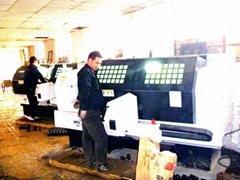 Henan Zhongmei Drill Tool Co., Ltd.,which is a private enterprise, specializes in drilling tools ,integrating research& development, production, marketing, and sincere service. Our company is located in Jindai Industrial Zone, Guancheng District, Zhengzhou City, Henan Province, China.

Our firm researches and develops complete sets of sophisticated production equipment: Digital Machine Tools, Multi-functional Milling Tools, High-frequency Induction Heating Equipment, and Vacuum Brazing Furnaces; and Reliable Testing Machines: Universal Testing Machines and Grinding Ratio Test Equipment.

The main products of our company include 6series and over 80kinds: Series 1: PDC Drill bit series Series 2: Tricone bit series Series 3: Diamond bit series Series 4: TC drill bit series Series 5: Ballistic bit series Series 6: Drill rods series Advanced technology equipment, excellent technicians, and scientific management will guarantee our products have superior quality , highly competitive prices and speedy delivery.

We also can produce products according to your drawings or other requests. If you have any questions, please do not hesitate to contact us by email or fax. We sincerey hope to cooperate with you, and we welcome your enquiry at any time.