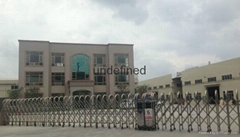 Zhongshan king kong shield coating technology co., LTD is a professional engaged in high-grade paint and new building materials research and development, production, sales for the integration of high-tech enterprises, located in the great sun yat-sen's hometown - zhongshan city, the hometown of crisp flesh Huan dongsheng town, elegant environment, here is the collection of industry and commerce, entertainment as one of the modern town, the company introduced advanced technology, production of environmental protection coating cover "king kong" brand, rich colors, excellent quality, construction is convenient, elegant taste, moderate price, for many businesses, by the user.

Cover "king kong" is the company registered trademark, aimed at metope adornment for the customer to provide quality products and services, and provide integrated solution. Its products cover: natural really stone paint series, the series of granite piece of lacquer, multi-color (also known as water bag water paint) series, sand wall paint series, metallic, fluorine carbon paint series, the series of exterior latex paint and lacquer furniture series and so on. According to different customers different demand, climate environment, property location of the project, provide the most suitable product system. The company strict requirements on the management, the full implementation of IS09001 quality management system, to ensure that qualified, stable product quality.

Cover "king kong" brand is now facing the country invites white space construction agency partners. Your satisfaction is our pursuit! Welcome to engineering, design, construction, and cooperation, the development units or individuals to achieve mutually beneficial win-win and common development!