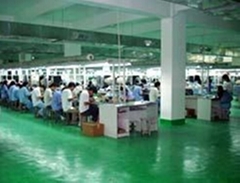 Ding Feng Enterprises (HK) Co., Ltd. was established in 1998 in HK and specializing in researching & developing, production and sales of switching power suppy, power adapter and related electronics products, after more than 10 years development, it has workers over 1000 in China mainland factory and products are full with the worlwide safety approvals, RoHS compliant and also level 5 energy efficiancy.

Over the past time, Ding Feng has establish a long terms relastions with many customers in home and abroad especailly in America and European market by providing a wide range of high quality products to many big brands for their different project.

Ding Feng's power supply are wide used in the fields of STB, DVB, LED, Ipod & Iphone, CCTV, and other networking and information equipments. For more inquiries, please contact us today!