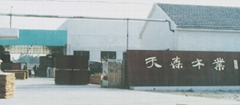 Tiansen Wood Industry Co. Ltd. established in 2000, is one of the biggest manufacturers of film faced plywood for construction in China. Our company is located east of Anhui province with only 90 KM from Nanjing port and 240 KM from Lianyungang port,the traffic for ocean shipping is very convenient. We have more than 800 employees, 9 standard workshops, 8 production lines, 2 rotary cut machines, one glue workshop, one independent laboratory, and one Poplar forestry center scaled about 100-hektare. Our annual production capacity is around 60,000 cubic meters of plywood.

Besides film faced plywood, we can also produce Birch, Pine, Poplar and hardwood plywood. For the past nine years, our products have been sold to America, Australia, Finland, Germany, Israel, Italy, Kazakhstan, Mauritius, Mexico, Philippines, Russia, Saudi Arabia, UAE, Kuwait and Ukraine. To follow up the consistent development of our business, Anhui Tiansen Trading Co., Ltd was built at the beginning of 2006 to look after our products for export. Based on the trading company, we are selling as well as other wooden products to meet our customers' demands. Please visit www.woodunion.com for more details.

   We are able to provide products with consistent quality, competitive price and excellent service. We are looking forward to establishing long lasting business relationship with all sincere buyers in the world.