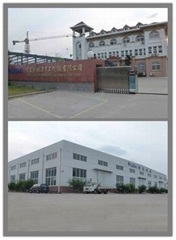 JAYA INTERNATIONAL, has been dealing in woodworking machinery for more than 20 years, started from Jaya Trading at the beginning of 1992. In 2008, we made great investment and became the holding company of YanTai Lida woodworking machinery Co.,ltd, which has over 52 years' history of manufacturing all kinds of China-made woodworking machinery since 1960, especially for the MQ & ML series combined woodworking machine, it has the extremely important guiding function in the circle. During the past few years, with the development of the company and the staff, we also expanded our production line to related fields like general machinery, CNC routers, Laser machinery, Plywood making machine and related hardware, ect.

Thanks for our top quality, excellent service and competitive price, thanks for all the support from our customers, now our machine has got great reputation as the brand ZICAR for woodworking machinery, MATIC for general machinery , HARRIER for CNC/ laser Machinery, PLYTEC for plywood making machine all over the world with the following advantages: * More than 300 employees, 56 technicians, covering an area of 35000 square meters.

*ISO9001:2000, CE certified, 15 national patents * One-stop service, meet needs of the customers from individuals to international companies.

*OEM service accepted.

* Separate trading office: Jaya Trading with 15 experienced sales offering full scale service.

*Inquiries are typically answered within 24 hours.

* After sale Service: experienced and knowledgeable team of technical support *annual turnover:USD 10 million We trust that our experience and intimate knowledge of this line will entitle us to your confidence.

The more you know us, the more you trust us!