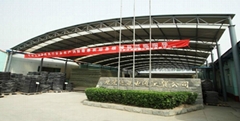 Beijing Fanya Diantong Industry & Trade Co., Ltd is a plastic manhole covers manufacturer, established in 2001, specializes in composite manhole covers products for sale. Now we have developed FRP,GRP Manhole Covers, SMC/BMC manhole covers, rain Gratings, and tree grating, which have been exported to USA, Europe, Middle East, etc.

Our Composite Manhole Covers can be used in various applications such as inspection chambers for sewerage, underground Electrical Cabling, Telecom Cabling, Water, Gas and Petroleum Installations, Beautification of Gardens and Landscapes. Composite Gratings can be used for roadside water entrance chambers, roadside gratings and also road crossover gratings which can take load of urban traffic. These composite gratings are best suited for swimming pool applications also.

In addition, our company jointly established 'FANYA DIANTONG ENGINEERING TECHNICAL R&D CENTER OF POLYMERIC MATERIALS ' with Beijing University of Chemical Technology & Beijing institute of Technology.

We are sincerely looking forward to your cooperation with us for mutual benefits.

..