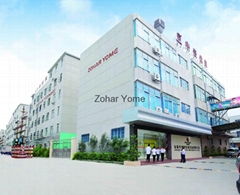 Dongguan City Zohar Yome Industrial Co., Ltd. is a new professional developer and manufacturer of detergent products. Our large ranges of products include a variety of detergents, liquid laundry detergents, detergent powders, dish detergents and floor water.

We have the most advanced and prefect production equipment put into use on 22 August, 2011. Meanwhile, we provide OEM processing with customers' materials supplied, including package processing, raw materials processing, component processing and sampling processing.

Zohar Yome is a young but ambitious company. We always take "creating human talent" as our duty. We hope we can improve the life quality and try our best to make the development of commercial culture in the new century. "To help customers be successful, make our country rich and strong, and achieve the value maximization of company and employee" is our unswerving mission. We firmly believe that there must be some Zohar Yome power.

With ongoing capital investment, we will try our best to offer you the highest quality and price-competitive cleaning products. Our factory has a self-created brand - Tinla.

We are increasingly expanding our international market based on quality products, excellent service, reasonable price and timely delivery. Please contact us at any time for more information.