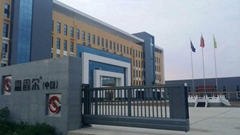 Hebei Secure-Nett Fence Facility Co., Ltd., founded in 2000, is located in Anping, famous as production base of wire mesh in China.

To meet the need of market economy development, Secure-nett established a specialized team with plenty of experience, which devoted in researching and designing steel wire mesh machine devices. Now Secure-net has developed into an integrated entity with R&D, manufacturing and trading.

Main products of Secure-nett : Full Automatic Wire Mesh Welding Machine New CNC Wire Mesh Welding Machine Concrete Reinforcing Mesh Welding Machine Mechanical Mesh Welding Machine Automatic Building Wire Mesh Welding Machine Breed Aquatics Welding Machine Welded Wire Mesh Machine Barbed Wire Machine Automatic Chain Link Fence Machine ETC....

Since the products have been put on the market, its good automaticity, stable movement and convenient operation obtains consistently high praise and approval. Welcome the new and old customers carry on the broad cooperation with us, the mutually beneficial interaction, creates new magnificence.

By now, our business has extended to many areas in China, such as Beijing, Shanghai, Tianjin, Chongqing, Guangdong, Fujian, Sichuan, Henan, Shanxi, Mongolia, Heilongjiang, Hunan, Zhejiang, Hainan etc. Our products have been exported to over 30 countries and areas like America, France, Germany, Italy, Russia, India, Pakistan etc.