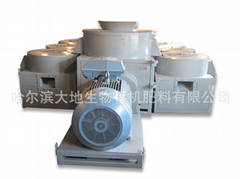 Harbin Dadi Biology Organic Fertilizer Co., Ltd. Located in Harbin, Heilongjiang province, China is an integrative corporation engaged in scientific research, biologic organic manure production, and equipment manufacture.

Based on the advanced theory for pelletizer made in both at home and abroad, through repeated experiments and deep research, a new type of ''Biologic Organic Manure Pelletizer'' has been developed, with the features of reasonable design, simple construction, bacterium resistance in normal temperature and particles' flowing smoothly. This type of product overcomes the problems which occur in normal pelletizers. Particles produced by this pelletizer contain low moisture and are easily dried and the equipment can also be used for pelletizing feed.

The blank of versatile pelletizer has been successfully filled in our country. We got the golden prize of the Ninth Patent Exhibition of China. Our products enjoy a good reputation from many users, and the heading of ''Scientific Fruit Rectified by Experts'' issued by Heilongjiang Daily, results in much concern from the craft brothers. In 2005, the pelletizer was awarded as ''Ten Top Equipment for Fertilizer in China''.

Welcome customers from all over the word to visit our company and set up friendly relationship!