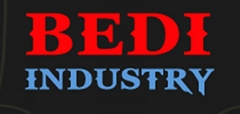 We are leading Manufacturers and Exporters of Fitness Products and Sports Wears throughout the world. Research, development and the most important factor experience of 10 years are the history Bedi Industry.

We do undertake the manufacturing of our quality products from the best of Leathers, hardware and the raw materials for the entire satisfaction of our valued client bearing in mind the technicalities, the usage of the products it-self.

We have a well organized production set-up which enables us to manufacture desired items as per detailed specifications of our worthy clients. We are striving hard to maintain the speedy dispatches as per the customer's requirements and time to time feedback of their order.

Bedi Industry remarkable success in a few years let it stand in one of the leading manufacturers and Exporter in Sialkot.

Mission: To produce products with the best quality To reach the highest standard in manufacturing of weight lifting belts.

To work for the development of society and we condemn child labor.

We will be glad to help you in any way we can. Please pass on any comments or questions you might have by email.

If you need any further information on a specific product then please do include complete Product Number so that we can assist you in a better and faster manner.

Thank you for your patronage.