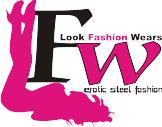 Welcome to Look Fashion Wears.

LFW was established in the year 2010 based in Sialkot (City) Pakistan. The Company has been thriving since its inception, in pursuit of its well-defined solo goal to provide excellent professional quality products and services to its clients. The strategy has been strictly followed-up through its life span which proved successful in securing valuable business and also in establishing healthy working relationship with clients.

Look Fashion Wears is the best source for quality BDSM Gear, Bondage Gear, Fetish Wear, Sex Toys, Medical Instruments and Vibrators.

We also Manufacture Ball Gags & Mouth Gags, Blindfolds, Leather Cock Rings, Leather Floggers & Whips, Male Chastity, Nipple Clamps, Paddles, Leather Bicep Straps, Leather Collars, Wrist & Ankle Restraints, Body Harness Restraints, Leather Chaps, Leather Corsets, Leather Gauntlet Cuff, Leather Jocks & Shorts, Leather Shirts, Leather Skirts & Kilts, Leather Waistcoat, Anal Beads, Basic Ball Stretchers Steel, Bondage Hooks, Butt Plugs, Cock Rings, Sperm Stopper & Plugs, Enemas & Douches, Forceps & Scissors, Sounds & Dilators, Speculums, Wartenberg Pinwheel and much more your complete BDSM, SM and DS Products.

Quality products have been the driving force behind our success yet, we need to note our dedication to quality customer service. We are confident that we are doing whatever is necessary to keep our customers happy! We look forward to building an even large base of satisfied North American, North Europe, Western Europe customers and we look forward to you being one of them! We are Committed to providing the customer service, competitive pricing, speedy delivery and a comprehensive product offering. Our ultimate goal is your satisfaction.

Our team is here to serve you and we welcome your input! Surgical Steel and Stainless Steel Products are highly polished and finished to have no sharp edges at all.

All materials are selected carefully to meet the best purpose.