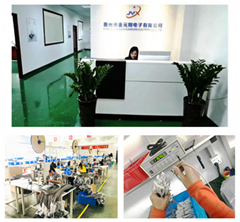 JYX Sensor company is located in the West District of Daya Bay, Huizhou City. We have a professional and high-quality marketing and technical team.

Based on exquisite and brand-new technology, it has formed an annual production capacity of 50 million high-precision NTC thermistors.

The main products of the factory are temperature control sensor, oven temperature sensors, PT1000 for oven, Kitchen thermometer, barbecue thermometer. NTC thermistors, temperature sensors etc. And our sensors have been lead-free production in accordance with the EU ROHS directive and passed the ISO9001 international quality management system certification. And We support customization, ODM, OEM service.

With the multi-channel and diversified development of the domestic and foreign economies, we will develop more products, serve more industries, and meet future challenges. We will focus on the domestic market and actively explore the international market.

The company mainly uses strict corporate management and advanced manufacturing technology to create its own brand and sales network to provide customers with satisfactory products and services. Adhering to the business philosophy of unity, development, pragmatism, and refinement, to serve our customers.