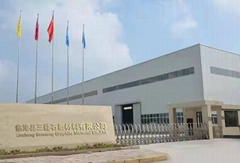 Founded in 1987, Sanneng Graphite Materials Co., Ltd. is a private joint-stock company limited by shares with total assets of nearly 1 billion yuan and an annual output value of 2 billion yuan. At present, it has 200 employees. After years of development, it has three production bases of Sanneng Graphite, Xuanyang Carbon, and Jizhixing Trading , covering an area of 200,000 square meters.

Our company has advanced production process control equipment at the leading level in China, which realizes informatization and integration, which guarantees product quality. It has a countercurrent calciner with 80 cans, a set of 3500-ton horizontal electrode extruder, a set of large annular roasting furnace, a set of 32500KVA embedded graphitization furnace, and 2 automatic production lines of CNC machine electrodes and nipple.

Our main products include graphite electrodes (RP, HP, UHP), graphite blocks/squares, graphite powder, graphite crucibles, graphite molds, blast furnace carbon bricks, blown bricks, blown rods, etc. As a manufacturer of graphite products, we have more than 30 years of experience in the graphite and carbon materials industry. Building a first-class brand of graphite materials has always been our unremitting pursuit.