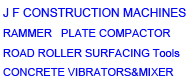 JIA FENG Machinery&Equipment (Wuhan) is a private-owned company starting from 2001,specializing in making and supplying road constabout 500 qualified employees working in three factories.

ruction machines for different soil conditions required and road construction maintenace tools in experienced factories at very competitive prices with fine design and good quality ,we have gained many praises from our clients,to be continuous innovation in this line,studied the specific demands from the end users for different construction sites using.Total member for all the procedures and machines is For the win-win cooperation business with thepartners,what we can do is the competitive and reasonable cost for the quality items and optimum solutions with economical cost for the delivery and the shipment.The full-considerable and effective sales-after service system gurantees the timely, lasting and reliable supports to the machine's service.All the items CE certified by authorized companyTUVare equiped with CE and EPA engines like Honda,Subara,Yanmar,Kipor and ect.

Offering the right construction machines and tools for right purposes is our aim,Learning from our customers' comments and Sending our best supports with nonstop improvements to let every partner gain more from us is our action.