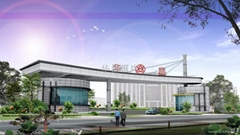 DanYang Huachang Tools Manufacturing Co., Ltd was established in 1980 and has a more than 20 years' history. It is one of the largest diamond saw blade production bases in Asia and the most influential diamond tool makers in the world.

We are supported with a powerful technology team, advanced production flow line, and inspection equipment. We strictly conform to IS0 9001—2000 quality control system and ISO 14001-2000 environment system. Inspection between processes follows the EN standard. Our aim is to make "HUACHANG" Brand well known on the earth.

We can supply diamond tools as following: ◆ Diamond Saw Blade: *Sintered Diamond Saw Blade *Silver Brazed Saw Blade *Laser Welded Saw Blade ◆ TCT Carbide Circular Saw Blade *Grass cutting saw blade *TCT wood cutting saw blade ◆ Diamond Core Drill Bits *Core drill bits *Finger bits *Thin core bits *Router bits ◆ Diamond Tuck Point Blade *Tuck point blade *Crack chaser *Turbo crack chaser *Sandwich blade ◆ Diamond Cup Grinding Wheel *Cup grinding wheel *Profile wheel *Silence core milling wheel *Zero tolerance wheel ◆ Flexible Polishing Pad &Backer ◆ Resin Bond Grinding, Cutting Wheel ◆ Electroplated Product ◆Wire saw Especially, diamond saw blades as the main products are manufactured on a large scale, with an annual output of 10 million pieces, 98% of which are exported to USA, Euro, Australia, Brazil, Middle-east, Southeast Asia and other countries and areas. Our products enjoy good reputation.

We take the business principle of "Customer-first, market-leader". Quality will always be our fundamental policy. We shall stand together with our customers to exploit market, and expect a prosperous future.