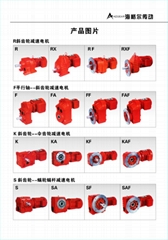 Hzgear Sinodrive Co.,Ltd. found in 1982,It is a science and technology which strictly act as the modern enterprise rules. There was an outstanding scientific team in our company. All of them are engaging and specializing in making transmission equipment (Worm Gear Reducer"WP Series ,WD Series,WPW Series,NMRV Series,RV Series,VF Series",Helical Gear Reducer"R Series,S Series,K Series,F Series,T Series,",geared motor,Screw Jack,Coupling). Through the hardworking of all stuff, our company has became a scientific research entity integration transmission equipment research, exploitation, production and sales.

Our products apply widely in the transmission equipment of logistics, storage, steel, metallurgy, rubber, foodstuff, drink, construction, printing, packing, lift, textiles, chemical, green and so on. Our products can satisfy the requirements of transmission equipment on many areas diffusely.

Our factory is efficiency under the high-standard management, the cost control and the quality testing. Our company have improved the network marketing . We have being cooperated with several famous universities and scientific institutes, it will ensure we can solve any problems on transmission equipment. At present, 80% of our products exports to Europe, and we still have the cooperation relationships with world top 500 enterprises.