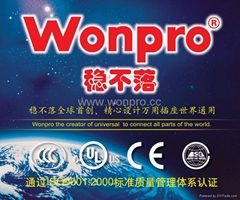 Professional socket & plug in the world Wonpro, the creator and manufacturer of the first world-patented product of universal receptacle, is honored to have patented its products in more than 50 countries.

Wonpro was established in 1989. Wonpro emphasizes on the spirit of "Universal Application" which could solve the problem of various plugs from the different parts of the world. For us, we adhere to "Link up the whole world". We have been awarded the conformity certification of the ISO9001:2015 International Quality Management System. And we have possessed advanced modern production equipment; have adopted advanced productive technologies and stream-lined production, carried out the systematic computerized management in all departments.

We specialize in all kinds of electrical appliance accessories. There are our core product line series as follows: 1) household advanced switch, 2) socket-outlet, 3) universal travel adapter, 4) portable universal socket and 5) universal receptacle series suitable for factory testing use or install on the electronic instrument & equipment applicable. All products are developed & manufactured by our own factory to ensure the best and reliable products supplied to the consumers. Our products are made from high quality materials that meet the International Electromechanical Commission (IEC) Standard, Certified by CE of EU, CCC (China Compulsion Certificate), received Adopting International Standard Product Marking Certificate, internationally approved in different countries. Our products are widely accepted by the consumers, have high reputation and sell well all over the world.Wonpro, with high quality products, novel in design and all-round services, enjoys the trust of customers. We regard supplying convenient safe electrical appliance accessories to the consumers as our duties. We will be your excellent strategically partner on supply chain in this field. Wonpro means convenience, safety and high-grade.