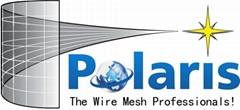 New Polaris Development Limited was founded in 1984. Over two decades, the company has dedicated themselves to the design and fabrication of the highest quality wire cloth.

The company was established to furnish wire mesh products (i.e. galvanised steel wire, stainless steel wire mesh, woven wire mesh, wire screening media, chicken wire netting, chain link fence fabric, gabion baskets, welded wire fabric) for quality conscious customers both home and abroad. Over more than 20 years of its existence, the company and its employees have accumulated unparalleled experience in the weaving and fabricating of mesh products.

We strongly believe that customer satisfaction is the key to success for any organization. Our main aim is to ensure customer satisfaction by providing superior quality products at reasonable prices. With combination of fair business principles, efficient service and solid products, we expect a successful and growth oriented future. We have a strong technical support, a knowledgeable staff, advanced production equipment enabling us to produce high quality products. We use meticulous quality control procedures and analysis in order to ensure our products meet the international standards. Our competitive prices, on-time delivery and quality guarantee makes us our customer's best choice We welcome your special requirements, your special alloy needs, and can produce your prototypes or production runs on time due to flexible manufacturing schedules.