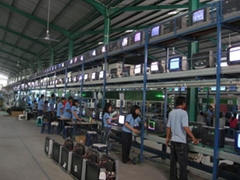 Bolun International Holdings Ltd. is an enterprise with factories located in China-Botin Electronic Co., Ltd. and Thailand-Botin Simple Technology (Thailand) Co., Ltd. with R&D, manufacturing, and distribution capabilities. Our main products show strong sales in The Middle East, Africa, Southeast Asia, South America and so on...

We mainly produce LCD/LED & CRT televisions and their related products including TV SKD, TV mainboard/chassis, TV cabinet and so on..., we also supply new & refurbished LCD/LED panels & CRT as well.

Utilizing advanced technology, skilled management, and long term distribution experience, We continues to grow both domestically and internationally.

In addition to producing original quality products, we also can manufacture OEM and branded products for you. We look forward to working with our current and new partners toward a promising future..