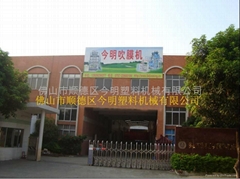 JINMING Plastic Machinery Co., Ltd. located in easily accessible, active economic growth and development in the emerging modern city Shunde Daliang 105 National Highway in the vicinity.

"Innovation, excellence" This character, soak the person next fight efforts Sabian the next person's sweat and sacrifice, we are committed to the professional production of blown film, blown film crew, all bags, blowing machine, plastic regeneration, Plastic crusher, the copper spiral screw blown film machine, as well as other related equipment.

Today is about people and winning the new order is far from sincere, I will be first-class products, first-class services to help the cause of your achievements.