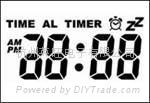 Cixi Borui Technology Co., Ltd. has a great experience and technique in designing and manufacturing many kinds of digital timer, digital watch modules, such as mini sized timer, multi-alarm clock timer, motor controlled timer, infrared Induction timer, timer with rechargeable battery, music IC driving timer, LED drived timer, timer with EEPROM, and so on. Now our products cover in fields as stationeries, medical apparatus and instruments, measures, fire protections,breeding machinery, etc.

Founded by Returned Overseas Chinese Scholars, we have a highly educated team. We are not only provide competitive prices, excellent quality but also help customers to solve technical problems, improve quality, reduce extra costs, and assist customers to become more competitive.

Your any requirement is welcome. We are committed to fostering long-term business relationships with our customers.